Great booking. Sarabeth Tucek's second album 'Get Well Soon' is nestling on the record shelves now, ready to be drilled into your heart. It's a stark and beautiful mix of febrile guitar work, dusty AM radio rock and wracked acoustic songs, Tucek's deceptively numb vocals rising ghost-like throughout. It's spellbindingly good, and knowledge that it's loosely based on the death of Tucek's father only adds further layers of emotional charge. I'm almost grateful that I can't go; the albums closing, title track makes me blub every time. Give it up for Gathered In Song's tireless Americana promoting; don't forget to give it up for unique, scarily good artists like Saraneth Tucek. 
05/15/11 SARABETH TUCEK plus Carwyn Ellis (Colorama), Rachel Taylor-Beales & Joshua Caole
 at Buffalo Bar, Cardiff – 19:30
Sunday 15th May 2011
Gathered In Song presents…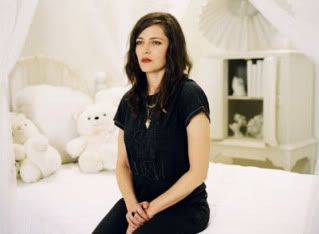 SARABETH TUCEK
A dark horse if ever there was one, US singer-songwriter Sarabeth Tucek has been likened to Cat Power, Nico, Natalie Merchant, Hope Sandoval and Karens Dalton & Carpenter. She's inspired Laura Marling, toured with Ray Lamontagne and Black Rebel Motorcycle Club and opened for Bob Dylan.
Tucek came to the attention of the indie scene whilst working with Bill Callahan on the album Goodbye Little Doll by EZT (i.e., singer/songwriter and occasional Will Oldham collaborator Colin Michael Gagon). She sung on the Smog album ' Supper' and appeared in the rockumentary 'Dig!' which chronicled the relationship between The Dandy Warhols and The Brian Jonestown Massacre. She co-wrote a number of songs with Anton Newcombe, released on BJM's 'We Are The Radio' EP. The release included a track she wrote that Anton named 'Seer', later re-recorded by Sarabeth for her debut single, the stunning 'Something For You'.
Much of her work, produced by Ethan Johns and Luther Russell, evokes memories of classic mid-seventies Neil Young.
Her own time has now surely come as she arrives in the UK to tour her second album 'Get Well Soon', out in April on the Sonic Cathedral label.
"an extraordinary voice that hovers intriguingly between Karen Carpenter and Rilo Kiley's Jenny Lewis, borrowing occasionally from Neil Young's hesitant vibrato and, yes, from Dylan's ability to hurl half a dozen more syllables into a line than you were expecting" The Times
"The most beautiful single of the year" NME
"Amazingly accomplished" The Times
http://sarabethtucek.wordpress.com/
Tickets will be onsale 10th April from We Got Tickets, priced £6.00.
Entry on the door will be £7.00
Doors open 7.30pm