Crane your necks, these tiddly gigs offer intimate thrills. Two dates for Mr Chew on either side of the Channel; two chances to catch a talented and scarily connected US troubadour. Hans is primarily a piano player, his, uh, distinctive fingerwork lending colour to ace psychers D. Charles Speer & The Helix, wiggy country teasers Oakley Hall, as well as playing with raga guitarist king Jack Rose. Clearly, just given these names, his solo stuff should be a feast. Kudos to Gathered In Song too for adding nutso and short anti folk gonk John Mouse to the Cardiff mix. Remember: no tall people at the front.
05/06/11 HANS CHEW + John Mouse – free entry show at Buffalo Lounge, Cardiff – 20:00
Friday 6th May 2011
Gathered In Song presents…
HANS CHEW
Having helped book a few dates for his tour we are happy to announce a South Wales show for the brilliant HANS CHEW following his appearance at Kilkenny Rhythm and Roots Festival…
Hans' debut full-length solo record, Tennessee and Other Stories… made #21 in Uncut's best albums of 2010 and #3 in their best Americana albums list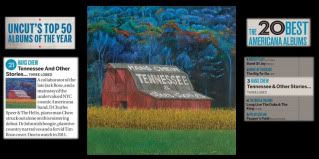 Hans is a conspirator to a number of parties unarguably guilty of music obsession. In addition to fronting his own eponymous band of sound fiends, he also plays honky-tonk piano for the psychedelic Americana group D. Charles Speer & The Helix, who have a full-length LP "Leaving the Commonwealth" coming out on Thrill Jockey records in April of 2011. Hans's barrel-house and boogie piano can also be heard accompanying Dr. Ragtime himself, Jack Rose, on Jack's 2009 release, The Black Dirt Sessions, and also on Jack's posthumous 2010 Thrill Jockey release, Luck In The Valley. He's also been known to perform with alt-Kraut-country rockers Oakley Hall. Hans currently lives in New York City. As well as the Uncut accolades, he has also had great press coverage from The Wire/Pitchfork/No Depression/Time Out etc.
"Sounds like early Elton John playing with The Faces" The Wire
With John Mouse and Gathered In Song DJ set until 12.30am!
FREE ENTRY!!
Please note this show is at Buffalo Lounge on Woodville Road, Cathays, Cardiff CF24 4EA. It is NOT at Buffalo Bar on Windsor Place where we've run events before. (Same good people though) For more info see www.buffaloloungecardiff.com
=====================
Mothers Ruin
8the May, 8pm
Hans Chew (US)
Already an accomplished drummer, Hans honed his skills as a pianist while residing at the infamous Clermont Hotel in Atlanta, GA. His most distinctive influences are those of New Orleans pianists James Booker, Professor Longhair, and Dr. John, as well as classic American rockers Little Richard, Jerry Lee Lewis and Leon Russell, and the work of post-punk singer/songwriter Nick Cave. Hans performed his first solo show in August 2009 at the Cake Shop in the Lower East Side of Manhattan, opening for lo-fi psyche rocker Kurt Vile, and toured the US in February 2011. Hans is performing all three days of the Kilkenny Rhythm and Roots Festival in Ireland, April/May 2011, followed by a week of solo engagements in the UK.
Lonely Tourist
"It's Little Richard on a Nick Cave trip, Floyd Cramer as The Night Tripper, or Leon Russell squeezed through a Jerry Lee Lewis pantyhose and collected in a burnt New Orleans spoon, sucked up and delivered in a James Booker-esque musical vehicle…"
You can hear the songs here.
http://lonelytourist.bandcamp.com/
www.myspace.com/lonelytourist
There was also a review/article in Bristol Venue and blogs/magazines
http://www.venue.co.uk/music-features/9299-only-the-lonely
http://www.shoft.org.uk/2011/03/29/missed-connections-3-lonely-tourist-sir-i-am-a-good-man/
http://www.isthismusic.com/lonely-tourist-2
and gig reviews
http://www.shoft.org.uk/2011/03/13/lonely-tourist-port-erin-admiral-fallow-the-cooler-bristol/
http://www.venue.co.uk/music-live-reviews-s/10671-scarlet-rascal-a-the-trainwreckrock-in-your-pocketflagsthe-lonely-tourist
My music has been featured on shows on Radio 2 and 6music as well as regional and internet radio stations and I recently played sessions for BBC Introducing and BCFM in Bristol.